Sell and Serve Your Customers More Profitably
Grow Your Business… Enhance Your Success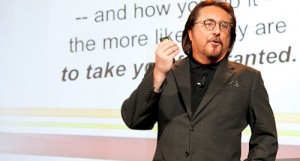 The extraordinary — and extraordinarily distinct — content of Scott McKain on how to create distinction, deliver distinction as a leader, and the Ultimate Customer Experience™ is also available for onsite delivery via consulting and training programs for your organization. Scott can work directly with you and your key people to create distinction in every phase of business within your organization, and teach your people the Ultimate Customer Experience™ to establish superiority in a competitive marketplace.
In addition, the content found in all of Scott's keynote programs can be expanded to half-day programs – or combined in a customized manner specific to your organization's unique needs to create highly engaging full-day programs — on better understanding what customers REALLY want, leading in turbulent times, and how to deliver experiences to external and internal customers in a distinctive manner to create space between you and your competition.
Corporate Inquires
Want to create distinction for your sales team, customer service professionals, perhaps even your entire organization? We'd love to work with you! Contact Shelley Erwin by phone at +1 (800) 838-6980 x2, or fill out the form below and we'll be in touch to discuss course information and pricing.